TikTok Ads Coming in 2019
February 21, 2019
Advertisers are increasingly looking at TikTok as the social network continues to grow rapidly and they begin rolling out new ad options.
Since last covering TikTok before they entered the US with their merge with musical.ly, it's been a regular in the top free apps rankings in both Japan and the US.
TikTok is growing impressively, reportedly with these numbers in Japan [J]:
9.5 million monthly active users (as of 4Q 2018)

To compare, Instagram has 29 million monthly active users in Japan

6 sessions a day on average

41 minutes of use per day on average
TikTok Ad Types
Taking a look at TikTok in Japan where brands have already begun running ads, we can distinguish between a few different ad options.
Because advertising on TikTok may not yet be available everywhere, this should give an idea of the offerings that'll be coming to those countries.
Brand Takeover launch screen ad
What: Full screen, up to 5 sec. static / animated / video ad that displays when the user opens the app
Objective: Send users to a page within or outside of TikTok, or have them participate in a hashtag challenge
Note: This ad type likely limits the amount of advertisers per day in each country
In-feed native video ad
What: Autoplaying, full screen, in-feed native video ad in the "For You" feed
Objective: Link to landing page, hashtag challenge page or app store
Note: There seems to be different ad options within the in-feed ad type, as well as possible restrictions on the number of advertisers and ad creatives being run at one time
Hashtag Challenge ad
What: Ad that promotes a branded hashtag that entices users to create posts around the theme
Objective: To promote the creation of original, user-generated content
Note: This ad type is likely a package as it can be promoted in other areas like the Brand Takeover launch screen ad and in the Discovery page banner area
Possible future ad types are said to include Snapchat-like branded lenses, which are 2D lens filters for photos and 3D lenses for faces, as well as AR stickers like the NFL stickers they already released.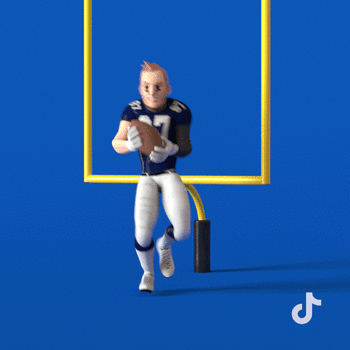 NFL player AR stickers
TikTok continues to gain people's attention around the world. While it started with the teenage and younger demographic, a growing number of adults are now becoming users as well.
As more and more attention goes into the network, advertisers will find it an increasingly attractive place to put their ad dollars.